Place you bought your motor from, and how you like them.
11-06-2008, 11:36 AM
Junior Member
Join Date: Nov 2008
Location: Saginaw, Michigan
Posts: 9
Likes: 0
Received 0 Likes on 0 Posts
this place sux
---
I am not usually one to dis people, however, this has to be said.
Originally I wanted to put a zc into my rex. The guy at WCP (you know who you are), said no problem. For $750, it seemed pretty good. After almost 6 months and no engine I was getting pissed off:mad: So I called and he said it was port security that was holding up the engine. O.K.
I informed him that it had to be a black top to fit, he said it would take longer to get because they were "rare". First off he didn't know what would work? Second, he couldn't tell me how long it would take?
I told him I wanted to cancel the order. He then informed me it would cost me a 20% restock fee. I asked myself for what?:confused:
Eventually he informed me he could get me a jdm 1st generation b16 for just a bit more. O.K. It was the engine I really wanted anyway. He didn't tell me the other stuff usually included in an engine swap package, would be a lot more.
After another long stretch, the b16 finally came to my friends shop. I was going to rebuild it before I installed it. Tore it apart, and it was filled with water.
After the rebuild it is now a good looking engine.
I had to get motor mounts, shift linkage, and the VTEC wiring from Hasport. Those guys are knowledgeable and helpful.
Long story, short. Don't buy from WCP. Look 'em up on the web, be forewarned.
05-08-2009, 09:09 PM
1991 CIVIC SI
Join Date: Dec 2006
Location: SAN DIEGO,TAFT
Posts: 240
Likes: 0
Received 0 Likes on 0 Posts
---
I got my stock replacement from hmotorsonline and it sat 4 like 3 months than I put it in it has a knock in it like a lifter or some shit and they won't repalce it cuz they have a 30 day starty up warnty
08-21-2009, 07:43 AM
Senior Member
Join Date: Aug 2009
Location: Ontario, Kanada
Posts: 116
Likes: 0
Received 0 Likes on 0 Posts
---
01-03-2012, 03:14 AM
Junior Member
Join Date: Jan 2012
Location: san antonio
Posts: 4
Likes: 0
Received 0 Likes on 0 Posts
---
I got a HMO b18c. Great motor 33,000 miles very healthy i made 350hp[IMG]x[/IMG] on 10 psi with 750cc RC injectors.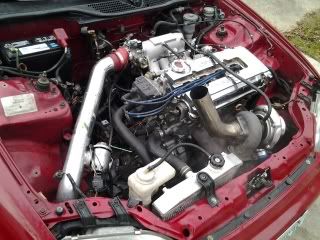 ---
Last edited by boostedJDMHatch; 01-03-2012 at

04:13 AM

.
08-08-2012, 11:58 PM
Junior Member
Join Date: Aug 2012
Location: Tampa FL
Posts: 4
Likes: 0
Received 0 Likes on 0 Posts