Differences between S2000 Model Years
11-14-2006, 06:39 PM
早晨好, 先生們!™ 粉腸+ 春袋
Join Date: Jun 1999
Location: Toronto
Posts: 8,730
Likes: 0
Received 0 Likes on 0 Posts
Differences between S2000 Model Years
---
MY00-01 and 02-03 Model Differences
• There were changes to the ECU between the 00/01 and 02/03 MYs
• MY00-01 plastic window replaced by a defrosted glass window that is slightly smaller; the new defrost button is opposite the cruise control on the right side and the shape of the cruise/defrosted changed. To accomodate the redesign of the window, the top frame was also slightly changed
• Interior leather and plastic colour combinations s have been changed. Previously certain models came in red/black interiors, 02 models featured all red interiors and 03 models featured all blue interiors depending on region (Canada/USA)
• A leather console cover replaces the carpet console cover.
• Front sway bar reduced slightly in size
• Doors saw the addition of silver accented tweeters, small storage pockets and silver accented door handles
• Two posts to the floormats to increase security to the carpet
• Increased size in Honda 'H' emblems on the exterior
• Tachometer indicator line is now white and scale is accented with a solid white arc
• The dead pedal is now aluminum with rubber grips to match the clutch, brake and gas pedals
• Cupholder cover and little rectangular hole behind it are now textured plastic
• A chrome ring has been added to the tail-lights.
• Air conditioning and heating is argubaly more powerful, the second and third fan speeds are more effective
• Stereo changed, upgraded wattage, now has bass/trebel/fade/balance controls on the exterior instead of one button. The stereo is also silver instead of black. The speakers in the door also changed, owners report the 02-03s sound much better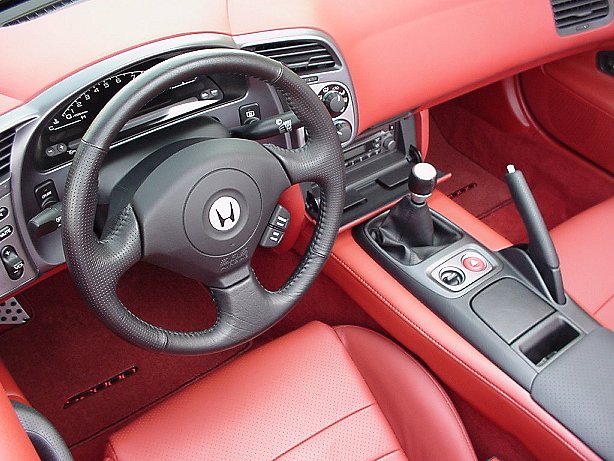 MY02 models have a leather console in the middle while MY00-01s have carpet. There is also standard accents (gunmetal like) around the controls.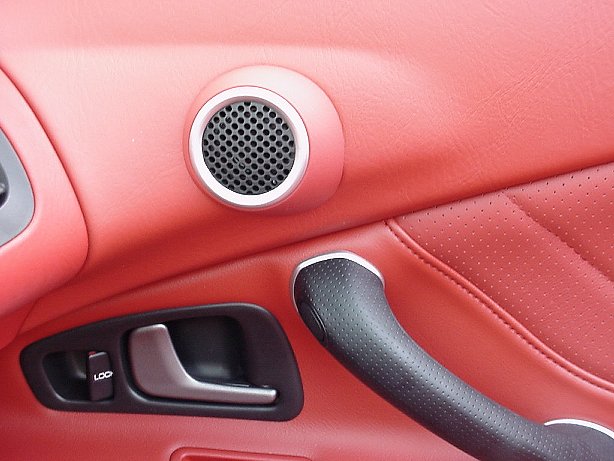 Tweeters have been added to the doors. This slightly improves sound quality.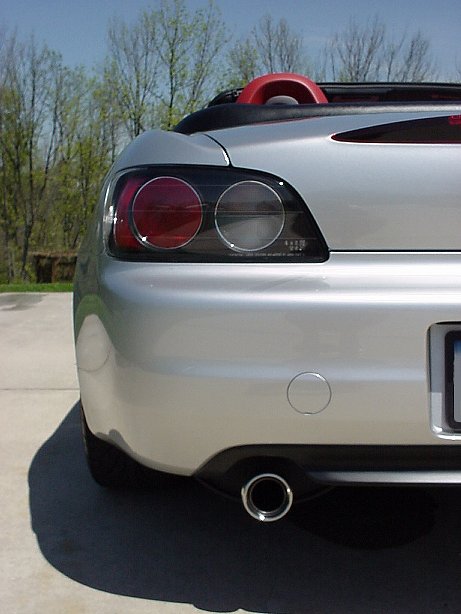 A chrome ring was added to the taillights.
MY00-03 and 04-05 Model Differences
• Engine code changed from F20C to F22C1 to represent the increase in displacement from 2.0 litre to 2.2 litre size.
• On MY04s: The cylinder bore is 87mm and stroke is 90.7mm with a 1:1.04 bore-stroke ratio. This results in more torque at lower rpms and improves driveability in daily situations. Whereas on MY00-03s, the cylinder bore is 87mm and the stroke is 84mm with a 1:0.98 bore/stroke ratio. Power is significant in the F20C after 6000 rpm whereas in the F22C, power is strong after 3000rpm.
• Redline is now at 8000rpm instead of 9000rpm.
• There is also a change in the gear ratios to offer stronger acceleration.
• The exterior had significant changes: A revised front bumper, rear bumper design is lower to the ground with larger oval diameter dual exhaust tips.
• Headlights revised to house a triple beam projector to replace the dual beam reflector design on the MY00-03.
• Rear lamps are now triple lamp LED replacing the MY00-03's traditional dual lamp setup.
• Larger wheels (upgraded to 17-inch from 16-inch) and tires provides a more aggressive apperance while increasing performance. Wheels are now twin-five spoke whereas MY00-03 was just five spoke.
• Optimized rear toe settings, suspension bushings, body rigidity increased, brake pedal ridigity increased.
• Curb weight increased to 2835 pounds, a 24 pound increase. Chassis upgrades to stiffen the car.
• Significant interior changes to the tachometer:
• Noticable change in door panels, they go inwards more to increase elbow room. The lower door pocket is now usable after an increase in size.
• Visual change to the OEM stereo allowing the addition of XM Satellite Radio
• Shift-knob is now accented with leather, shift boot is genuine leather
• Revised steering wheel with increased 'H' emblem size, cruise control button also added to steering wheel controls (previously had two buttons)
• Centre console upgraded with aluminum trim like look, can also hold two cups, one-touch sliding lid instead of lift lid